The world needs your help.
Donating Money
Learn More
---
Currently, we are accepting monetary donations that will be used in multitude of potential ways:

1) To purchase single-serve package food items and other materials that will be used to create care packages for patients and medical professionals at local hospitals
2) To buy materials that will be used to make homemade masks
3) To provide meals for Mediumize uses in need of financial assistance
4) To purchase house-hold materials in aid of Midland
If you would like to request for money that Mediumize fundraised to be donated to a specific place, please contact us and we will reach out to you as soon as possible
Disclaimer: Although we are a volunteer service that operates for non-profit purposes, we are not a 501(c)(3), so not registered to be tax-exempt upon donations.
---
---
Donate Masks
Making Masks
---
Hospitals across the country have been requesting for medical supply donations for weeks, not because of a lack of funds but rather shortages in supply. Specifically, hospitals have been attempting to collect pre-owned PPE supplies. While medical personnel certainly require these scarce supplies the most, it has left many other essential workers shorthanded. According to representatives from Meijer and Kroger, five grocery store workers have already passed away due to heightened exposure and a lack of protection in Michigan alone. With an incubation period between five days and two weeks, many grocery store employees can pass COVID-19 on to customers without knowing, especially since the virus is the most transmissible before symptoms arise. As such, we need to protect grocery store workers not only for their own safety but also the rest of the population. There is no perfect solution to protecting grocery store workers considering the insinuating situation. However, while most medical professionals are not allowed to accept DIY face masks, grocery store workers who would have no protection otherwise can. The most common method to assemble a homemade face mask involves a sewing machine, but other methods are much easier to scale and can be just as effective. One such process only involves four simple materials: a square fabric of any sort, two hair ties or rubber bands, optionally a stapler, and cleaning supplies. Watch this simple, 1-minute video to learn how you can make one yourself!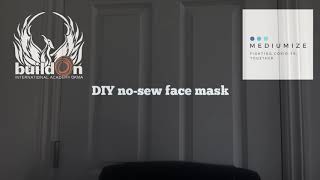 Mediumize is partnering with another non-profit organization, the buildOn chapter at the International Academy of Bloomfield Hills, to distribute masks throughout Metro Detroit. Please keep in mind that if you choose to donate these masks through Mediumize and buildOn, it is important to take proper sanitary measures such as:
Washing your hands before touching any materials.
Washing the fabric before use.
If possible wear a face covering and gloves when making masks to be donated.
Place the final product in a sealed zip-lock bag.
If you would like to make a mask and have it delivered to a grocery store, fill out the form through the following link: buildOn/Mediumize DIY Mask Donations. To help distribute masks, fill out the form through the following link: buildOn/Mediumize Mask Volunteer Driver.
---
Donating Materials
---
If you have access to materials that could be used to create homemade facemasks, such as fabrics or t-shirts, contact us and we will pick them up from you!
---
---
Donating Food
Donating Food From Savorfull
---
Local company Savorfull from Metro Detroit is offering a $10 discount on orders $50 or more through the code "MEDIUMIZE" to anyone who would like to make a donation of individual packaged bulk food items to our first responders and medical personnel
Directions​ (Only for Michigan)​

Send the donation to 6180 Eastmoor Rd, Bloomfield Hills, MI 48301
We will then deliver the donated food to first responders and medical personnel
If you would like your Savorfull purchase to be donated to a specific group, contact us and we can still deliver the item for you
---
Donating Food for those in Need
---
Please contact us and we will pick up the any food donations, which will then be given to Mediumize users in need of assistance.
---
---
Donating Medical Supplies
What to Donate
---
Disposable face masks

N95 masks, sometimes called respirators
Eye protection including face shields and safety goggles
Disposable gowns
Disposable gloves, especially non-latex
Disposable surgical caps
Disposable foot covers
Wipes: bleach or antimicrobial
Hand sanitizer
PAPRs (powered air-purifying respirators) and PAPR hoods
Nasal testing swabs
Viral testing kits
---
What not to Donate
---
Note: These kind of items might be needed later. If Beaumont's donation needs change, the list will be updated.
Home-sewn reusable masks
3-D printed ventilator parts
Medications
Blankets
Medical equipment
Other supplies
---
How to Donate Medical Supplies
---
Mediumize is continuously expanding the means by which we help our communities in the fight against COVID-19. If you live within Michigan and are able to spare any of the following items to the University of Michigan's Hospital, please email jonah@mediumize.com and we will pick them up for you. If you do not live in Michigan, we still encourage you to donate to your local hospital. Our medical professionals are at risks to the devastating effects of COVID-19 due to shortages of supplies required to keep them safe. As the "curve" continues to remain "unflattened," our hospitals need the materials necessary to keep doctors, nurses, administrators, COVID-19 patients, and general patients safe.
---
---